18 Mar

Request for Proposal (RFP): Engineering with Nature – Building Coastal Resilience through Engineering with Nature, Sea Level Rise and Wave Related Risk
Notification:
Due to COVID-19, the deadline for submitting proposals has been extended.
New delivery date: May 31, 2021
The Department of Natural and Environmental Resources, through the Coastal Zone Management Program, is seeking municipal government applicants to develop and implement Engineering with Nature (EWN*) projects to undertake measures that address sea level rise, coastal erosion or wave related risks, and build resilience at the local level.
Natural or nature-based features (NNBF) are landscape features that are developed to provide engineering functions relevant to risk management while producing additional economic, environmental, and social benefits. These include: creation and restoration of reefs (e.g., coral and oyster), barrier islands, dunes, beaches, wetlands, and coastal forests.
Critical elements that define the EWN approach:
Using science and engineering to produce operational efficiencies.
Using a natural process to maximize benefit.
Increasing the value provided by projects to include social, environmental and economic benefits.
Using a collaborative process to organize, engage, and focus interests, stakeholders, and partners.
Special consideration will be given to the following types of project:
Those that specify how the project will help reduce risk to critical infrastructure or critical access in coastal communities.
Those that emphasize on stakeholders and community involvement.
Tasks:
Complete the Coastal Zone Management Act (CZMA) 306-A checklist, also must comply with federal and Commonwealth laws and regulations, as applicable, such as: Puerto Rico Environmental Public Policy Law, National Environmental Policy Act (NEPA), Regulation 4860: "Regulation for the Management of Vulnerable and Endangered Species in the Commonwealth of Puerto Rico", among others.
Develop a work plan.
Applicants must demonstrate evidence of the OGPe environmental compliance approval.
Design and implement the EWN project.
Submit quarterly progress reports, as well as reports with each invoice.
Submit a final report summarizing the following:

Methodology used to design and implement the project
Data summary and findings (if applicable)
Lessons learned over the course of the project
Recommendations for future or follow-up work
A. Proposal content: The proposal should not exceed 10 pages in length. Pages in excess of 10 will not be reviewed. The proposal should address the following items in a concise and yet complete manner and offer all the necessary information for the evaluation of the proposal:
Content page:

Project title
Project location(s)
Project team/Project team organization – Include name, title, affiliations and contact information of the project leader and key personnel.
Project Cost – Including deliverables (insurance policy, progress report, etc.)
Abstract – Describe briefly the project being proposed, and any important details.

Proposal Narrative:

Goals and Objectives
Methodology – Outline project design and describe tasks that will be completed to meet the project objectives.
Site description – Provide a description of the site selected and justification for choosing this site. Include map(s) of the project area(s) and site photographs.
Roles and Responsibilities – Define the roles and responsibilities of all project participants.
Relevant Experience -Briefly describe relevant experience of the project leader and partners.
Outputs, Outcomes, and Evaluation – Specify the expected products and results that will be produced over the course of the project. Discuss the methods to evaluate the effectiveness and success of the project.
Project Schedule – Dates of starting and finishing project, as well as a detailed time frame regarding reports, milestones and/or specific activities.
Project Budget – Matching funds are encouraged, but not required.
B. Target areas: Proposed projects should be located within the coastal zone of Puerto Rico.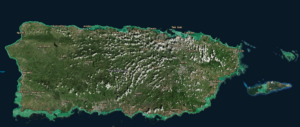 C. Eligibility: Local governments and coastal municipalities with approved environmental permits (i.e. OGPe permits office or US Army Corps of Engineers, if applies) can submit proposals.
D. Available funding: $120,000
E. Estimated time frame to complete the tasks: May, 2021 through March, 2022.
F. Evaluation Criteria for Proposals:
| | | |
| --- | --- | --- |
| CRITERIA | EVALUATED ITEMS | SCORE |
| Working Plan | Ability to perform the required works, a comprehensive work plan, including detailed itinerary. | 55 |
| Compliance | Regarding compliance with state regulations (license or certifications to practice your profession in Puerto Rico, DUNS Number, ASG registration) and applicable federal detailed content. | 10 |
| Experience | Previous experience. | 20 |
| Budget justification | Budget narrative (e.g. personnel, supplies, insurance policy, survey, etc.). Proposed amount budget exceeding $120,000 will not be accepted. | 15 |
G. Submittal: All proposals must be received by April 30, 2021. Applicants should submit both an electronic and hard copy of their proposal as follows:
Digital – PDF or Microsoft Word® documents must be sent to pmzc@drna.pr.gov and nviera@drna.pr.gov
Hard copy – Two hard copies must be delivered to:
Department of Natural and Environmental Resources
San José Industrial Park
1375 Ave Ponce de León
San Juan, PR 00926
H. Proposal Evaluation Process: Proposals that meet all the requirements of this RFP, will be evaluated by a review team from DNER. Proposals will be evaluated on the applicant's demonstrated ability to construct green infrastructure practices. The proposed practices and municipality partners involved will be highly considered. Additional criteria to evaluate the proposals will be:
Comprehensiveness of the proposal.
Individual or firm's experience on similar projects, regarding such factors as quality of work, cost control, and ability to meet schedules.
Adequacy of technical staff, as demonstrated by experience, education, and potential project role.
The contractor understands the services required by the Program.
Proposed costs.
Organization and scheduling of the project requirements.
Knowledge and ability to comply with federal procurement standards and grant regulations.
Professional quality of the project proposal: conciseness, clarity, and thoroughness of presentation.
Project manager accessibility.
Ability to complete project in a short period of time.
I. Consultant Selection Notification: DNER-PRCZMP will notify the selection of the consultant not later than Monday, May 31, 2021.
J. Other Special Conditions:
This RFP does not commit the PRCZMP to award a contract, to defray any costs incurred in the preparation of a proposal pursuant to this RFP, or to procure or contract for work.
All proposals submitted in response to this RFP will become property of the PRCZMP and will be considered public documents, and as such they may be subject to public review.
The PRCZMP, at its sole discretion, reserves the right to cancel this RFP for any or no reason, in part or in its entirety, including but not limited to: section schedule, submittal date, and submittal requirements. If the PRCZMP cancels or revises the RFP, all potential contractors will receive a notification advising the cancelation or revision of the RFP.
The PRCZMP reserves the right to request additional information and/or clarifications from any or all potential contractors participating in this RFP.
Announcement of the selected contractor, contract awards, and all data provided by the PRCZMP shall be protected from public disclosure. Consultants desiring to release information to the public must receive prior written approval from the PRCZMP. The PRCZMP, at its sole discretion, shall determine the release and disclosure of information related to this RFP and any final work products as a result of this.
Related Documents: