20 Feb

Agricultura y Recursos Naturales se unen para ayudar a la industria pesquera

Posted at 13:13h

in

Educación

,

Noticias

0 Comments

Notice

: Trying to access array offset on value of type bool in

/var/www/html/wordpress/wp-content/plugins/bridge-core/modules/shortcodes/shortcode-elements/_social-share/templates/social-share.php

on line

118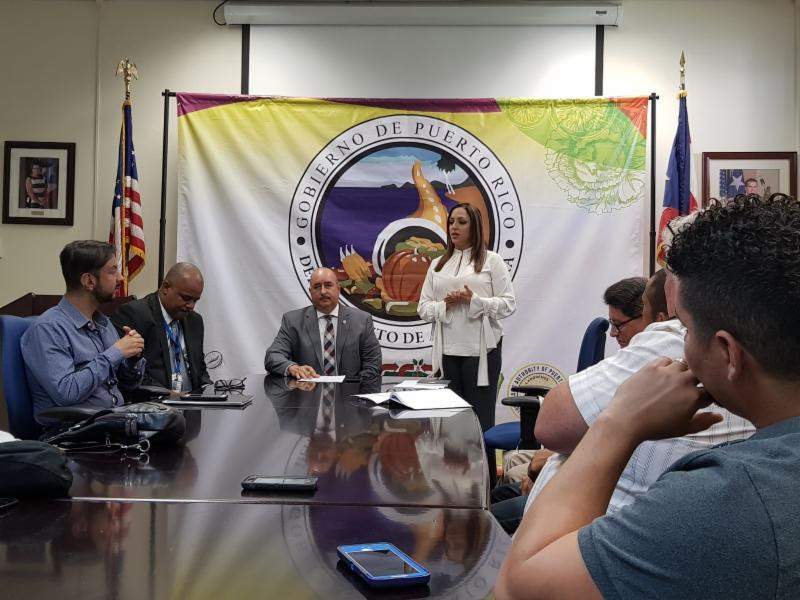 (San Juan) – Con el fin de trazar la estrategia de asignación de fondos al sector pesquero en la Isla, durante la mañana de hoy el secretario de Agricultura, Agro. Carlos Flores Ortega firmó una orden administrativa junto a la secretaria de Recursos Naturales y Ambientales, Lcda. Tania Vázquez Rivera y un grupo de directivos de las diferentes villas pesqueras de Puerto Rico.
Durante la reunión también estuvo presente el Sr. Carlos Suárez del USDA, y miembros del staff federal que expresaron su apoyo al departamento y las villas pesqueras en este proceso. Los fondos disponibles alcanzan la suma de $400,000 dólares que serán distribuidos entre todas las villas pesqueras para así atender las necesidades de esta industria e impulsar su desarrollo.
"Estamos trabajando fuerte para continuar el desarrollo de todas las industrias agrícolas de la Isla. La industria pesquera está organizándose de una manera inteligente para continuar su desarrollo. Estos fondos servirán grandemente al restablecimiento de una industria pesquera estable y sustentable", comentó el Secretario Flores Ortega.
La gestión de ambas agencias atiende la parte de desarrollo de la industria pesquera trazado en el Plan para Puerto Rico del gobernador Ricardo Rosselló. La distribución de dichos fondos será a través de vales que se harán disponibles en las diferentes regiones agrícolas de la Isla.
Por su parte, la secretaria del DRNA, Tania Vázquez Rivera, indicó que como parte de los proyectos de colaboración interagencial está la ayuda a la industria pesquera. 
"En Recursos Naturales estamos comprometidos con los pescadores y queremos darle herramientas para que su trabajo continúe. Tenemos metas a corto y largo plazo para que la industria sea sostenible. Lamentablemente hubo muchos planes que no se implementaron, pero nosotros venimos con una mentalidad diferente. Seguiremos trabajando, junto a las agencias federales, para incentivar este sector", puntualizó.  
Los vales ayudarán a los pescadores a adquirir materiales para construir las nasas, bollas, cables para pesca, anzuelos, pesas, mejoras a villas pesqueras, entre otros. Es importante que cada pescador tenga su licencia de pesca al día, pertenecer a alguna villa pesquera, estar registrados en el DRNA y actualmente estar operando para poder accesar los vales.