16 Aug

Coral Diseases
PUERTO RICO CORAL REEFS CONSERVATION PROGRAM
Coral Diseases in the Caribbean
The Caribbean has been described as a coral disease "hot spot." In Puerto Rico, diseases are one of the leading threats to coral health. The impact of disease on corals can be detrimental, leading to large-scale losses in coral cover, diversity, reproductivity and overall reef structure. Coral diseases can occur for a number of reasons, from biotic (e.g. infection, genetics) to abiotic (e.g. temperature stress, contamination) factors. Characterizing the cause of a disease remains a challenge, and disease diagnoses often rely upon visual cues that can vary across time, region, observers, and coral species. Despite these challenges, collaborative research efforts across the Caribbean have improved our understanding and identification of various coral diseases. Below you will find descriptions of some of the more prominent coral diseases in Puerto Rico. The devastating impact these diseases have on reef health highlights the importance of our continued efforts to monitor, research, and restore Puerto Rico's vital coral ecosystems, complemented with educational programs and actions aimed at restoring healthy environmental conditions.
Coral Diseases in Puerto Rico
Across the Caribbean, the disease with the current greatest threat to coral reef health is stony coral tissue loss disease. While the causative agent of this disease is not yet known, the high virulence, transmissibility and deadliness of this disease has gotten coral reef conservationists working relentlessly to try and combat this latest severe threat to our reefs. Below are some useful resources to help learn about this disease and ongoing efforts to monitor and respond to outbreaks in Puerto Rico.
This map shows the distribution of sites where Stony Coral Tissue Loss Disease (SCTLD) has been identified in Puerto Rico (shown in red), as well as sites where efforts to treat sick coral colonies are being carried out (yellow stars).
SUBMIT A CORAL DISEASE REPORT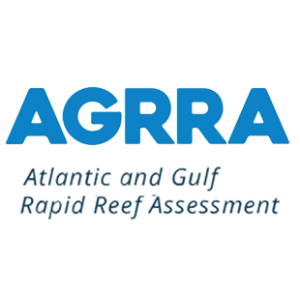 Report sightings of SCTLD to AGRRA (Atlantic and Gulf Rapid Reef Assessment Program)
AGRRA collects and reviews reports of coral disease and bleaching from across the Western Atlantic and Gulf of Mexico. The Department of Natural and Environmental Resources adds these reports to our ongoing database and map of SCTLD distributions in Puerto Rico. This helps us track the disease spread and identify priority sites for treatment and intervention.
Click on either of the following links to enter a Basic or Detailed coral disease or bleaching report. Thank you for helping to monitor Puerto Rico's reefs!
This simple survey form allows you to enter presence/absence data on corals affected by SCTLD and bleaching by coral species and estimates of corals affected, photos and site information. You can identify survey method used such as rover diver, bar drop, general observation etc.
This detailed survey form allows you to input more detailed quantitative data on the number of coral colonies affected by stony coral tissue loss disease and/or coral bleaching (fully bleached, partly bleached, pale), recent coral mortality, photos and site information. You can identify the method used such as rover diver, bar drop, etc.
Thank you for your interest in volunteering! You can get involved by signing up to be a volunteer for EREA (Equipo de Respuesta a Emergencias de Arrecife, in Spanish).
Please visit EREA's webpage to learn about how you can sign up. Through this group you will receive information on volunteering opportunities and training sessions for identifying coral species, learning about coral diseases, and treating corals.
The Coral Reef Conservation Program is currently under the Office of Coastal Zone and Climate Change of the Department of Natural and Environmental Resources.
Legal and Historic Background
The Coral Reef Conservation and Management Program was created in response to the Law for the Protection, Conservation, and Management of Coral Reefs in Puerto Rico (Law 147 of July 15, 1999), which empowered the Secretary of the Department of Natural and Environmental Resources (DNER) to develop a program with the particular interest of conserving, managing and protecting these ecosystems. In 2016, the DNER adopted the Coral Reef Regulation (DNER Regulation 8809), with the purpose of providing protection to coral reefs, coral communities and associated ecosystems, regulating it's uses, establishing penalties that entails their inappropriate use and implementing management mechanisms for their protection and conservation.
At the national level, this Program is part of the Coral Reef Initiative by virtue of Executive Order 13809 promulgated by the President of the United States William J. Clinton, under which the US Coral Reef Task Force. This committee is led by the Department of Commerce (National Oceanic and Atmospheric Administration, NOAA) and the Department of the Interior (DOI), among other federal agencies with inherence on coral reefs. In addition, it is part of the states, territories and associated free states where coral reefs are present.
Management and Conservation Priorities

In 2010, the following management priorities and Local Action Strategies (LAS) were established:
Improve water quality by reducing pollutants coming from land-based sources.
Protect reef fisheries and associated ecosystems making use of the management tools available for protection and conservation.
Reduce human impacts that are most critical to coral health and protection.
Reduce the impact of phenomena associated with climate change such as diseases that come from the increase in the frequency and impact of storms, the increase in water temperature and air pollution.
Promote the recovery of coral reefs impacted by previous events.
NOAA's Coral Reef Conservation Program (CRCP) adopted it's Strategic Plan in 2018, setting the following national priorities:
Increase resilience to climate change
Improve the sustainability of fisheries
Reduce sources of land-based pollution
Restore viable coral populations
Puerto Rico Coral Reefs Conservation Program
Department of Natural and Environmental Resources
Postal Address:
San José Industrial Park
1375 Ave Ponce de León
San Juan PR 00926
Telephone: (787)999-2200 ext.2406, 2729
Email: programadearrecifesdecoral@gmail.com